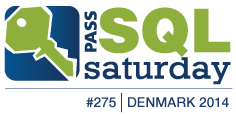 With a little push from some of my colleagues, I have submitted a speaksersession to SQL Saturday in Copenhagen and Edinburgh.
To my big surprise both sessions (with the same subject) was chosen as a part of the sessions to be held. I'm very excited and thrilled that these possibilities was given to me.
The SQL Saturday in Copenhagen is going to be my virgin session, where I'll speak about a dynamic approach to partition kubes – bassed on the multidimensional model. The Tabular model's dynamic partitioning can be read in a blogpost HERE.
I hope to see you at the events – it's free. You can sign up here: Copenhagen - Edinburgh.